The Met Gala is a charity event held every year in New York. The event is popular for the appearance of celebrities in unique styles of outfits. This year the event was based on a theme: Karl Lagerfeld: A Line of Beauty. Karl Lagerfeld was a German fashion designer who worked for several luxury fashion brands and is one of the most popular designers.
This year's event honored Karl Lagerfeld for his contribution to the fashion industry. But the most interesting part of the event was the after-party appearances of the guests. Many celebrities shook the audience by wearing almost nothing for the late-night festivities.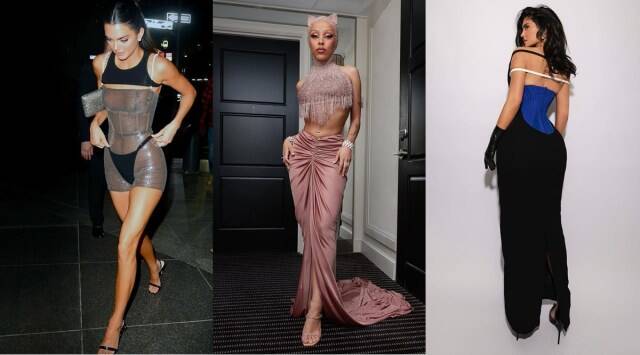 image source:https://images.indianexpress.com/2023/05/met-gala-after-party.jpg?w=640
The American model Kendall Jenner kicked the evening off in a completely sheer look. She made her presence in an after-party event with her rumored boyfriend Bad Bunny. She was wearing a transparent grey dress with a black bikini. However, the actor wasn't the only one flaunting her bold look. Celebrities like Rita Ora, Emily Ratajkowski, and Paloma Elsesser were also seen flaunting their bold looks at after-party events.
Jared Leto, who was seen wearing a lifelike cat costume on the Met Gala red carpet, was seen carrying the head portion to an after-party event. His more regal, long, and see-through top was unique and eye-catching. The American rapper and singer Lil Nas X was also seen in a sleeveless fur-styled top.
The American actor and singer Olivia Rodrigo was wearing a V-shaped neckline decorated with lace and a black bow in the center. Her look seemed comfortable for an after-party event. The popular American singer Billie Eilish was seen in a casual baseball cap and jacket, like always. Her look seemed completely chic and comfortable for an after-party event.
The American singer Jenelle Monae was all set to make a unique and bold appearance at the after-party event she hosted. She was wearing a black, sequin-covered bikini with pearl-lined straps. Her white-colored, cat-shaped purse took the limelight as she carried it to pay tribute to the designer Karl Lagerfeld.
The actor Jennifer Lopez was seen wearing a black-and-white dress with matching gloves and beautiful diamond earrings. Priyanka Chopra was also seen with her husband Nick Jonas. She was wearing a red baggy shirt and a thigh-high slit skirt. The Canadian actor Simu Liu was seen wearing a deep-blue satin top with deep-blue velvet pants.
The famous personality of the entertainment industry, Kylie Jenner, was also seen wearing a black-and-white, off-shoulder gown. American businessman Joshua Kushner and famous fashion model Karlie Kloss were seen together in a coordinated black-and-white look. The actor Olivia Wilde was seen in a silver, netted gown. Her see-through look was one of the attractions of the after-party events. The American television actor Lea Michele was seen in a simple black mini dress.
Newlyweds Lukas Gage and Chris Appleton were also seen coordinating their chic black looks. One of the most attractive looks was a sheer, black dress covered in embellishments that honored the Met Gala theme. The dress was carried by Amanda Lepore.