On Sunday, the MA Chidambaram Stadium witnessed a quick-fire-half century by Kolkata Knight Riders' player Nitish Rana. But this win looks costly for Rana as he is fined Rs 24 lakh for breaching IPL's Code of Conduct relating to minimum over-rate offenses. Also, each member of the playing XI, including the impact substitute, is fined 25% of the match fee.
Earlier, the cricketer was fined 25% of his match fee for breaching the IPL's Code of Conduct. This happened after the star batter and Hrithik Shokeen were involved in an ugly duel. However, this isn't less common on the IPL ground as we have earlier seen legendary cricketer Virat Kohli and Gautam Gambhir's ugly fight during the match.
KKR's captain Rana has been fined for the slow over rate against Chennai Super Kings. The cricketer was seen disappointed as he had a heated argument with the umpire after being fined for slow over rate. This will be his second fine under this season of IPL. The KKR team's win against CSK made them pay a heavy fine.
Nitish Rana is the captain of Kolkata Knight Riders and is considered as attacking left-handed batsman and part-time off-spin bowler. He made his international debut in 2021 and played for twenty20 international squads for their series against Sri Lanka.
Rana made his IPL debut in 2016 and currently playing for Kolkata Knight Riders. Kolkata franchise acquired his services for Rs 8.00 Cr to play for their team in IPL 2023. Rana has played 104 matches to date in his IPL career and scored 2586 runs including 18-half centuries.
Indian Premier League is a men's T20 cricket league, which is considered as world's richest T20 cricket tournament annually held in India. Recently, Saudi Arabia planned the world's richest T20 cricket tournament, which could be a threat to BCCI's Indian Premier League. However, this could take a lot of effort from Saudi Arabia's side to replace IPL.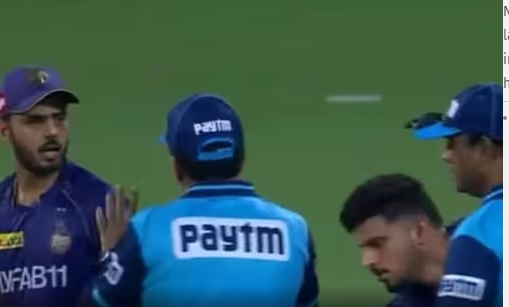 IPL is the largest and most expensive cricket league in the world, founded by BCCI in 2007. According to BCCI, in 2015, IPL contributed Rs 1,150 crore to the country's GDP. As of 2023, the audience has witnessed 15 seasons of the tournament. Currently, Arun Singh Dhumal is serving as chairman of the BCCI and Jay Shah is the secretary of the BCCI.
The Mumbai Indian team holds five titles of the IPL and is the most title-holding franchise followed by Chennai Super Kings and Kolkata Knight Riders. In 2022, Gujarat Titans defeated the Rajasthan Royals in the finals and become the champion of IPL 2022.
Since the introduction of IPL in cricket, it becomes part of controversies several times. Sometimes the event catches attention due to the ugly fights between players, and other times it may be due to the new rules added in the book.
The IPL series is one of the most loved series by cricket lovers. It has made international recognition in the history of cricket. The series also helps several newcomers to build their careers in this sport. Many known players have once started their journey from IPL.