These laborers in Chennai exemplify persistence and hard work toward success. S Ezhumalai who happens to be a rescued bonded laborer living in Tiruvallur's Pinjivakkam village had never dreamt that one day he would be owning a brick kiln. Yet, he has his brick kiln today. Now a proud Ezhumalai says that along with his three neighbors, he owns a kiln. It brings him a different feeling after being able to own something in all the years of hardships he has undergone.
The brick kiln is situated in Pinjivakkam and since the time it has been opened for business in February, it has turned to become one of a kind across the entire district of Tiruvallur. Alby John, the district collector had set it up using his discretionary funds. On the completion of the kiln, he gave ownership to the laborers of his state.
Last year during the month of April, the first brick kiln was made in a village named Veeraganallur which is in Tiruttani. John has said that he helped in making these kilns so that the laborers can have a permanent place to settle. He also wanted them to no longer lead a life of a bonded laborer.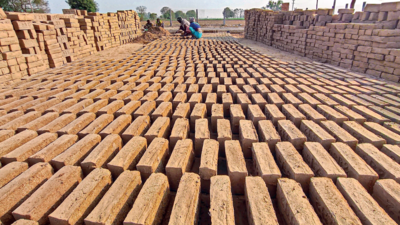 image source:https://static.toiimg.com/thumb/msid-99105723,imgsize-2444616,width-400,resizemode-4/99105723.jpg
Ezhumalai has shared that for the past three generations, his family has been working as bonded laborers for a sugar mill that is nearby. In 2005 they got rescued and were given work in the agricultural fields. He says that the collector who was aware of their condition had set the kiln up for them one day and gave them the charge over it. Ezhumalai says that the profit that he is earning from it will allow his children to get educated. John has also said that these kilns are a part of the three-pronged system to protect rehabilitation and also prevent the system of bonded labor.
John also says that the bonded laborers who have been rescued are not tracked often. And this leads them to become bonded laborers back again somewhere else. They are always heavy on debt and end up not being able to secure a place to stay. He hopes that through these kilns they will be able to develop a sense of roots and belonging.
When John was appointed as the collector of Tiruvallur in 2021, he became aware that he needed to offer a rehabilitation program. During that time some rescued bonded laborers had approached him for work so that they could improve their lives. It gave him the reason for ensuring a group of rehabilitation programs being a collector.
The first kiln that he made contained a hundred laborers. Out of them, sixty were woodcutters and forty were laborers. R Kala who happens to be one of the beneficiaries among them has shared that he got rescued from a brick kiln. And because he is uneducated so he was unaware of whether the amount being paid was justified or not. His life has changed due to the support from John. John has further shared that they also track migrant laborers too. Furthermore very often he holds meetings with the owners of the brick kilns to ensure that they are not employing anyone as bonded laborers.