Following the publication of IndusInd Bank's Q4FY23 results report, shares of the bank increased by more than 2% during Tuesday's intraday trade. According to the report, operating performance was stable and loan growth was excellent, which resulted in a 50% increase in standalone net profit over the same quarter last year. The bank also disclosed a 17% rise in net profits for the fiscal year 2022–2023.
The stock is up 47.5% from its 52-week low of Rs 763.75, which was registered on June 23, 2022, albeit trading 11.6% below its 52-week high of Rs 1,275.25, which was reached on September 20, 2022.
The stock returned 19% over the past year, but it has dropped by almost 2% during the last six months. The stock has lost more than 8% of its value thus far in 2023, although it has gained close to 11% over the previous month.
IndusInd Bank had a strong fourth quarter, with solid momentum in both the retail and corporate divisions, according to Shreyansh Shah, a Research Analyst at Stoxbox. Along with improving indicators for asset quality, the bank's core KPIs, including NII, RoA, and RoE, have improved.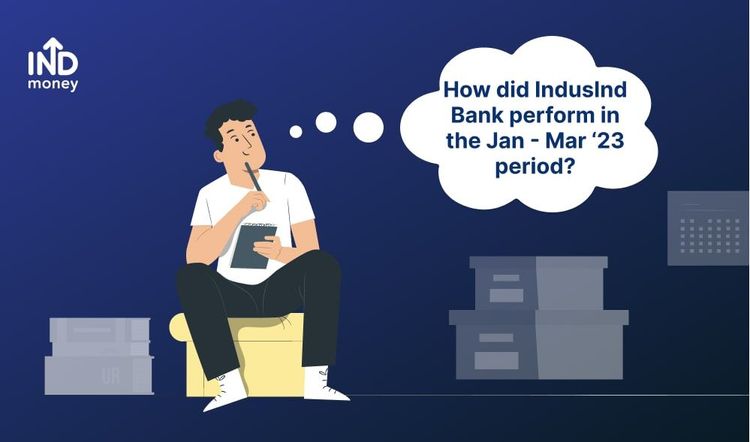 image source:https://ind-strapi-cms.s3.ap-south-1.amazonaws.com/medium_Slide_16_9_265_min_e4df9bb573.jpg
Shah predicts that the bank will likely increase its market share and manage risks in the future by diversifying further.
The bank will be able to attract a higher valuation multiple in the future thanks to a well-capitalized balance sheet, increased collection efficiency across business areas, lower credit costs, cautious provisioning, and a particular emphasis on the framework for risk management.
JM Financial has maintained its "BUY" rating on the company following the announcement of the Q4 data, although it has decreased its target price from Rs. 1,470 to Rs. 1,375. Despite the fact that the term extension for the MD & CEO has fallen short of market expectations, the brokerage observes that IndusInd Bank's fundamental performance is still trending in the correct direction.
An appealing entry point is provided by the stock's present value of 1.5x FY25e BVPS (with predicted RoEs of 16.7% FY25e). In addition, LKP Securities has kept its "BUY" rating and set a price objective of Rs 1,322 in light of the bank's strong core operating results.
The brokerage thinks a larger contingency buffer will protect the bank against credit disruption brought on by different restructuring plans.
According to analysts, IndusInd Bank's loan growth improved further in the March quarter while deposit growth remained essentially constant. In comparison to the same quarter last year, the bank reported net advances at Rs 2,89,965 crore, a 21% YoY increase (or 6% sequential growth).
The growth in deposits was Rs 3,36,443 crore, up 15% YoY from Rs 2,93,681 crore in the same period last year. However, the CASA ratio decreased from 42.80% in the prior quarter and 42% in December to 40.1%.
Overall, IndusInd Bank's fourth-quarter earnings met expectations and were well appreciated by investors. 18 brokers have given the bank an average price objective of Rs 1,344.47, which represents an upside potential of more than 19% from the current market price.