Most of us would like to take a summer break and head off on a vacation. So, there are a few things everyone should carry whether they are planning a beach gateway, a city break, or a countryside retreat. The perfect accessories for summer vacation must give you a comfortable and stylish look. In this article, we will discuss some of the must-have summer essentials.
There are so many fashion options available on the market. Choosing the perfect one as per your needs could be a daunting task. From wearing a floral print dress to coordinating it with statement sunglasses, we will discuss everything in this article.
Summer season is all about wearing comfortable, light, and breezy clothing in which we feel comfortable yet stylish. Most people travel to beaches in summer, so, the light color and breathable fabric are more appropriate to wick away moisture. The light color sunglasses are best to be coordinated with. Sticking to lighter colors will be best to keep yourself cool, as such colors reflect the sunlight.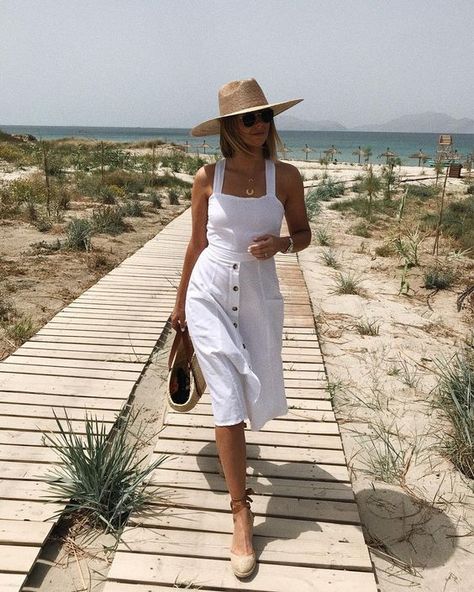 image source:https://i.pinimg.com/474x/52/4d/64/524d64f41623fc91936bb5c855adfe5b.jpg
For those who prefer ethnic in summer, handloom fabric would be ideal to look stylish and comfortable at the same time. These handicraft fabrics are being created for generations now and are significant in terms of showcasing local craftsmanship. These fabrics are made using traditional techniques like block printing, hand weaving, embroidery, etc.
Natural fibers are used to prepare breathable and lightweight fabric for summer purposes. Such fabrics are available in a range of vibrant colors and prints such as; floral prints. Several fashion brands launch their unique summer collection every year. However, their price range is a lot more than an ordinary person can afford. But the local salesman will offer you the same classy look and comfort within your budget.
These days, sustainable fashion is a topic of discussion around the world. Most people, who are concerned about the fashion impacts on the environment, prefer sustainable clothing brands. From eco-friendly accessories to nature-inspired prints, there are several ways to showcase your love for the environment.
Animal prints are another go-for option for tropical fashion. Such prints are available in different patterns like leopard print, tiger print, zebra print, snake print, cheetah print, etc. During the 90s, such prints were more common in the Hindi film industry and many celebrities wear these prints even today. This indicates how these prints represent the rich and stylish look for a summer vibe.
The Accessories like jute bags, cotton backpacks, and straw hats represent the eco-friendly tag to summer essentials. As already mentioned vibrant colors must be preferred for summer vacations such as red, orange, yellow, green, blue, brown, etc. Such colors also represent a comfy and stylish yet comfortable look.
Coordinating your summer look with a stylish hat and sunglasses is a must to have on vacations. Without carrying sunglasses and a hat, your summer vacation could make you trouble with bright daylight. Also, make sure to choose your outfits as per your comfort. For example, a floral and vibrant look would be more comfortable for a stylish look whereas bold prints with bold hues would give you a casual yet comfortable look.