The popular actor Priyanka Chopra recently appeared on the red carpet of the Met Gala 2023. The most interesting part of her appearance was the diamond necklace she wore at the event. The necklace with a blue Laguna diamond is worth 25 million. The necklace is from a jewelry brand named Bulgari.
Priyanka Chopra is the brand ambassador of this jewelry brand since 2021. Bulgari is an Italian luxury fashion house known for its unique pieces of jewelry and accessories. According to a report from the International Gemological Institute, the blue diamond increasing the beauty of the necklace is the largest piece from Bulgari. Also, it is one of the most valuable gemstones ever sold by them.
The actor has shared several pictures of her stunning look on her social media pages in which she is seen flaunting her Bulgari necklace. The actor was wearing a black and white dress which almost doubled the beauty of her appearance. She is not only an Indian celebrity but also a global star that made India proud on the global stage.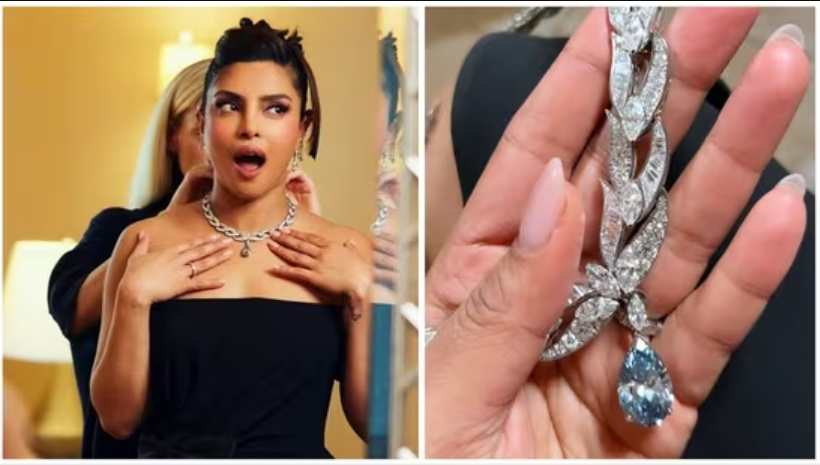 Image source:https://www.hindustantimes.com/ht-img/img/2023/05/02/550×309/priyanka_chopra_1683025363331_1683025363581.jpg
Met Gala is held every year in New York at the Metropolitan Museum of Art. This year's event is themed; Karl Lagerfeld: A Line of Beauty. Karl Lagerfeld was a popular iconic designer who spent decades creating clothes for Patou, Balmain, Fendi, Chloe, and Chanel. This been 3 years since the designer died at the age of 85.
Indians at Met Gala 2023
Apart from Priyanka Chopra, many other Indian celebs took participation in this awaited event. Alia Bhatt was also seen flaunting her white gown on the red carpet like a mermaid. This was her debut appearance at Met Gala. Isha Ambani was wearing a black-color one-shoulder outfit with fine pearl detailing and hand-embellished crystals on it. Her glamorous look was one of the beauties of this event.
The entrepreneur and style icon Natasha Poonawala was also seen flaunting her custom all-silver Schiaparelli gown. Her look was inspired by some of Schiaparelli's HAUTE Couture Collection 2023. Another Indian Diya Mehta Jatia was also seen flaunting her Prabal Gurung look. She is the sister of Shloka Mehta and the wife of Ayush Jatia who is the MD of Hardcastle Restaurants.
Met Gala history
Met Gala or Met Ball is the world's most prestigious and glamorous fashion event. Previously it was known as Costume Institute Gala or Costume Institute Benefit. It is an annual fundraising event for the Costume Institute of the Metropolitan Museum of Art. The event is held every year on the first Monday of May. The theme for the event was decided based on its annual Costume Institute Exhibition.
The Met Gala was established in 1948 and was nothing more than an ordinary event held for New York charitable Institutions. It was started by fashion publicist Eleanor Lambert who wanted to raise funds for the newly build Costume Institute.
Met Gala's global existence evolved when Diana Vreeland became a consultant to the Costume Institute in 1972. Slowly the event became a high-profile celebrity-oriented show with attendees like Andy Warhol, Elizabeth Taylor, Diana Ross, Elton John, and many other well-known high-profile personalities.