The new variant of covid seems to be growing across the world. The earliest samples were found in Karnataka state and the USA in mid-December. The origin of the variant is somewhat unclear to the scientists. Until today more than 13,000 samples of omicron sub-variant have been detected in the country.
The samples have been collected from 24 states and union territories. The highest number of samples were found in Gujarat state, followed by Delhi, Karnataka, and Maharashtra. In central India, 91.7% of samples were detected as XBB.1.16 sub-variant positive. And it was 100%, 52.8%, 50%, 75%, and 67.1%, in northeast India, north India, east India, south India, and west India respectively.
This sub-variant is thought to be responsible for increased covid cases in the last few months. The symptoms include; headache, sore throat, bodily soreness, and abdominal discomfort. However, the sub-variant does not cause any severe problems, but extreme caution is required for those who already have health problems. In India, XBB.1.16 has replaced the other circulated variants in the country: WHO's covid-19 technical lead said in a press conference.
As per the guidelines of the Ministry of Health and Family Welfare, a person with covid symptoms/covid-positive must be under home isolation. Also, physical distancing, proper hygiene maintenance, and indoor mask are some of the must-dos to prevent the further spread of the disease.
The variant is being monitored by World Health Organization. According to the reports, countries like the USA, Australia, India, and Singapore also reported cases of this new sub-variant. According to a Times of India report, covid cases in children under the age of 12 have reportedly risen sharply with symptoms like high fever and sour throat.
Since this variant is still under the monitoring of WHO, any conclusions cannot be drawn based on some random facts. For example, symptoms like itchy conjunctivitis weren't seen with other covid variants and are considered a unique symptom of this new covid variant. But the conclusions lack proper monitoring and research of this new sub-variant.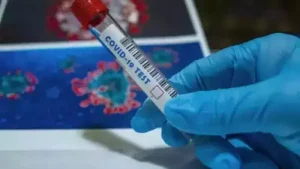 Many scientists around the world said that more research is needed to fully understand the symptoms of this sub-variant. This omicron sub-variant is responsible for rising covid cases in the past few months. This sub-variant is a recombinant of BA.2.10.1 and BA.2.75 variants. Several reports claimed that omicron and its sub-variants continue to be the dominant ones.
What is Arcturus?
XBB.1.16: sub-variant of omicron, also known as Arcturus. This variant has been found in several countries including India, USA, Australia, Singapore, UK, etc. This variant is in circulation for a few months now and is responsible for increased covid cases in recent. This sub-variant has an additional mutation in the spike protein, which shows increased infectivity according to the lab studies.
World Health Organization considered this variant as a 'variant under monitoring' assuming its high transmissibility. The symptoms include conjunctivitis or pink eye makes this sub-variant different from the previous one. However, WHO or any other organization hasn't given any clarification about its unique symptoms.