Bobby Deol
has seen a resurgence in the second phase of his second innings, thanks to OTT releases like 'Class Of 83', 'Aashram' and '
Love Hostel
'. By his own admission, he's bounced back with a vengeance leaving behind the disappointments of the past. He doesn't mind being told that he's not in the same league as his father, he doesn't mind seeing his sons
Aryaman
and Dharam follow in his footsteps either. It's all because Bobby is confident that the mistakes of his past and his failures have taught him enough to guide his sons and his young co-stars away from failure. In this week's Big Interview, Bobby looks back at his career, his choices and his reinvention with candour. Excerpts:
How do you feel about the way your recent films like 'Love Hostel' and 'Class Of 83' have been received? What sort of reactions have you received for your performances?

I think it's just been amazing. The kind of reactions I got, I thought I was dreaming. I had to pinch myself to actually believe that I was getting such appreciation and positive reactions. It felt really good because playing these characters was a big challenge. It was totally out of my comfort zone. These kinds of characters come to you once in a lifetime, you don't get these kinds of opportunities. I didn't want to waste that opportunity. I was scared that if I don't get the character in 'Love Hostel' right, then I will never get opportunities like that again. So, I put in a lot of effort and hard work. And the most important thing was to get the Haryanvi accent as close to the authentic language.
You played quite a gritty and intense character in 'Love Hostel', which seems like a complete contrast to your real-life affable personality. Did you have to dig deep in the recesses of your heart to channelise that intensity and darkness?

You know, everybody has a dark side. We control the dark side and become better people. That's how I look at it. We are human beings, we are all flawed. So we can only improve our flaws by understanding our culture and upbringing. What we learned from our parents was to be down to earth and strive to be good human beings. Because we all are greedy, we're selfish, we're all egoistic. What makes us better is when you understand all these aspects of personality and control them. My character of Dagar believed he was right. He never felt he was wrong. That's how I tried to portray the character. He seems to think nothing he's doing is wrong, but everybody else around him is wrong. That's why he's doing what he's doing. In life, you can go through some mishap or something untoward happens, it kind of triggers something in your mind, and you just become someone else. That happens to a lot of people, so, I think I just thought of all those things. I've seen so much life, I've seen so many people around me; good, bad and ugly. All these people kind of stay in your mind and you just imbibe those feelings and their emotions.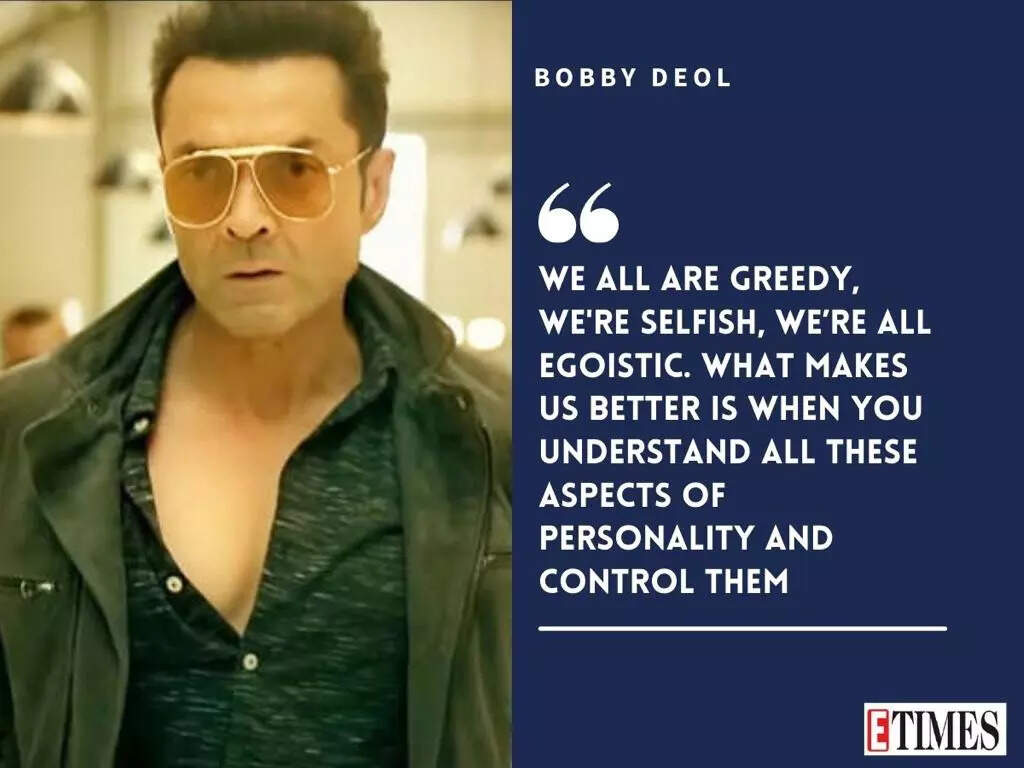 Salman Khan gave you a shout out for 'Love Hostel', too. Would you say Salman is that best friend, who's always got your back?

Salman is an amazing human being, he is a very big hearted person. It's not just for me, when he really cares about someone, he goes all out to be there for them. I'm just lucky that I'm one of those few people that he has so much love for. And it's thanks to him that I started working out. I never used to work out even though my brother and my dad used to be working out all the time. Salman gave me an opportunity in 'Race 3' and that was the beginning of a lot of things for me and my career. A lot of people saw me after a long time. The younger generation hadn't seen me and when Salman bhai ki film lagi ho toh everybody goes to see it. Because of 'Race 3', I landed a role in 'Housefull 3' and that's how the younger generation started noticing me.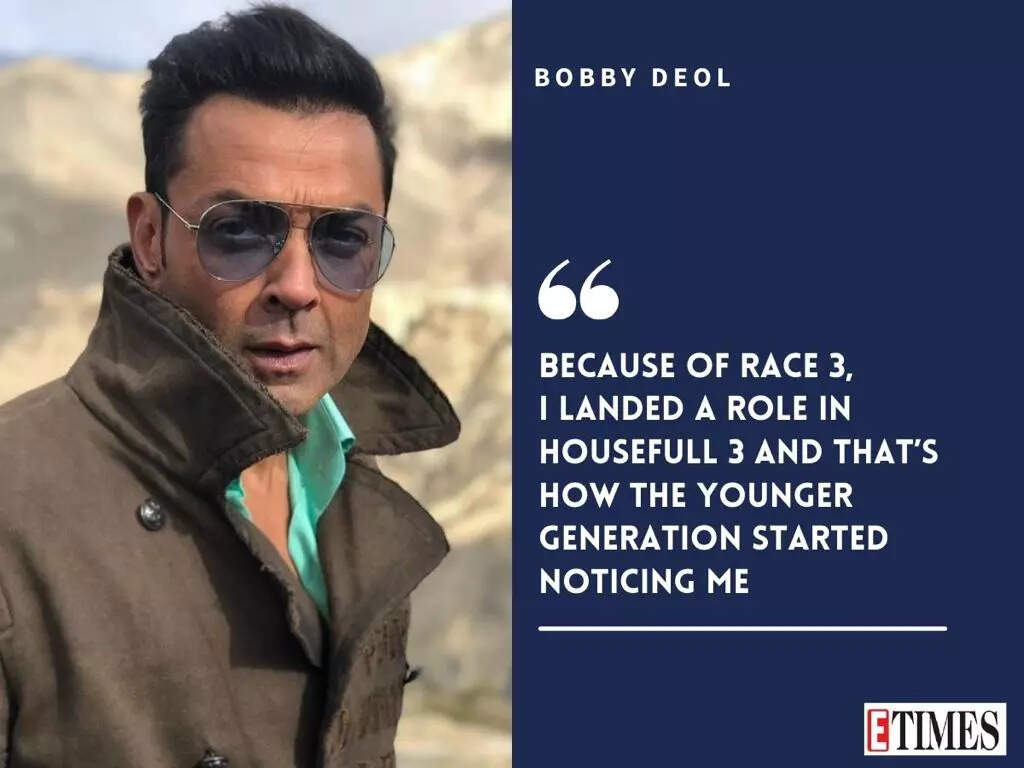 But you didn't limit yourself to commercial cinema, you've chosen to take creative risks…

As an actor, I still wanted to do something of substance. I did not want to just be a part of commercial cinema. Because I had already done that a lot in my career. I was wondering, how do I make people accept me as an actor. Because I always believe that when the audience accepts you and sees you as an actor, your innings in the industry becomes longer. You get to play different kinds of characters. I was just looking for that one opportunity and got that with 'Class Of 83'. It was also produced by Red Chillies. And I was really happy playing a mature character like that, because nobody had thought that Bobby would do it.
Everybody thinks once an actor has been a star, how can you make him play a character like this? But I was looking for an opportunity like this. And that was my first step, getting a character with substance and luckily after that, I got 'Aashram', where I got to play a character I never thought anyone would approach me for. The funniest thing is, I was Prakash Jha's first choice for that role. That made me go, 'WOW!'. I walked in to meet him and I had been wanting to work with him for years. And he narrated the story to me and he said, 'I want you to play Baba Nirala.' I said, 'Am I hearing you right?' But I was so happy because whenever you're challenged as an actor, something just switches on inside of you. And that gets the best out of you. I think that's what happened to me. I think that's why I'm enjoying my career right now, doing characters that are out of my comfort zone. It's something that people didn't believe I could do.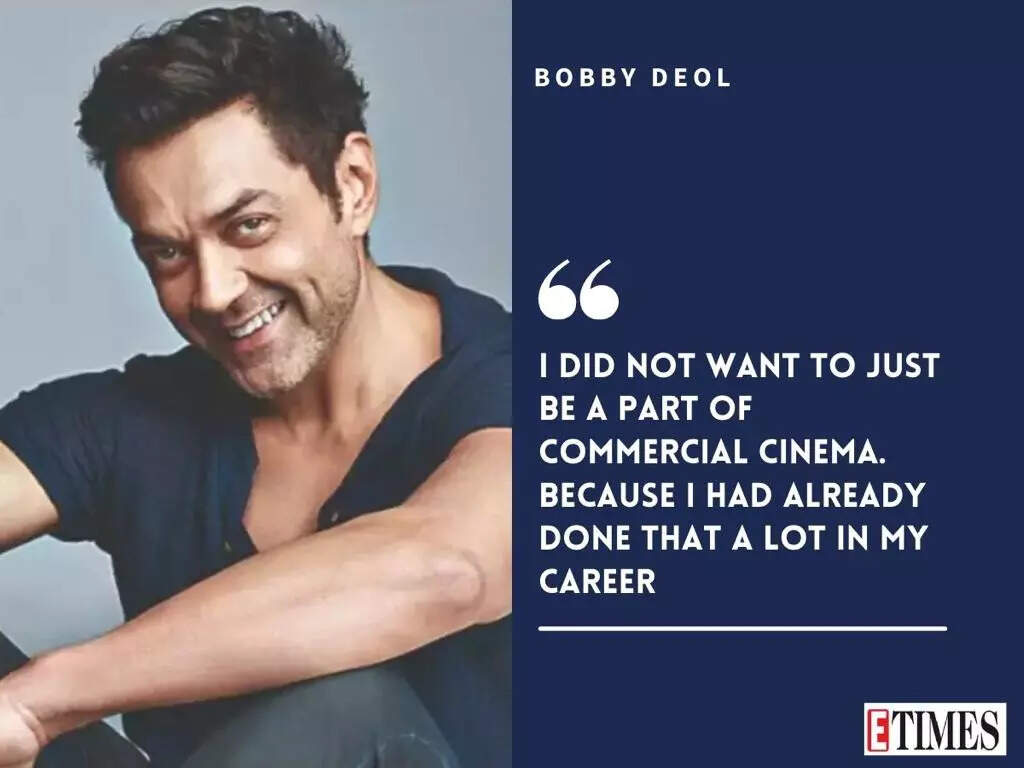 You're now working with young co-stars like Sanya Malhotra and Vikrant Massey. There's a new breed of filmmakers like Shanker Raman and Atul Sabharwal. Is it exciting to be surrounded by all-new voices?

The new generation in filmmaking wants to do things passionately. Take for example the production house behind 'Love Hostel', Drishyam Films, they're a bunch of passionate filmmakers and producers. They came together with Red Chillies to make a spectacular team to make a film like 'Love Hostel'.
On all these OTT platforms, I've worked with such young, talented people. Like in 'Class Of 83', I worked with actors who had not worked as actors before and yet they were so good at what they did. And in 'Aashram' again, I was surrounded with these great actors like Chandan (Roy Sanyal), Darshan (Kumar), Tanmay (Ranjan), Sachin (Shroff), Adhyayan (Suman) and Tushar Pandey. In 'Love Hostel', I didn't get a chance to work with most of the actors directly, but meeting and interacting with Vikrant and Sanya was such a pleasure. This young generation of actors are so focused when they're on the set. They are completely invested trying to do their best and are so involved in their work. It's just changed a lot for me. And that made me want to work harder. I never thought I'd ever get a chance to work with these young actors like Vikrant and Sanya. But here I was, the devil, trying to destroy them (laughs).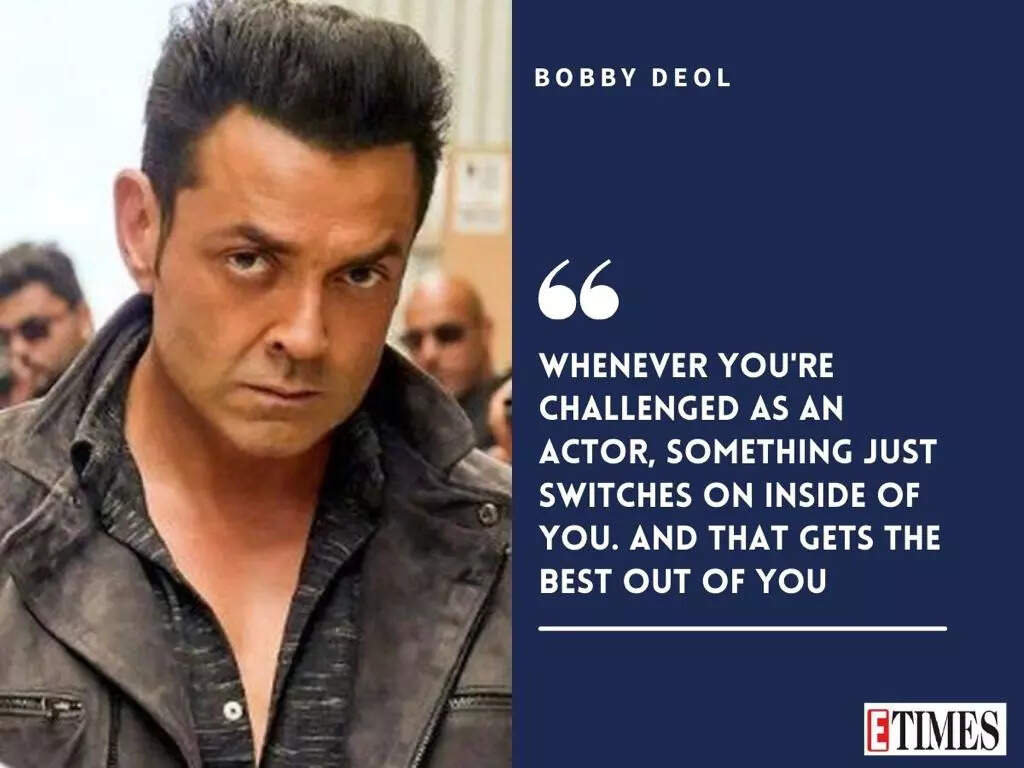 A lot of this sounds like reinvention and evolution. None of this must be easy at 53, having been around in films for over 27 years. Do you have to unlearn a lot to learn something new?

I think the experience of life teaches you a lot. If you learn from your mistakes, that's the best lesson you can teach yourself. And as an actor, I never went to any institute or any drama school. I did a crash course of three months with Roshan Taneja sir. I knew that I wanted to be an actor. Luckily in those days there weren't too many people vying for the stardom as there are today. But slowly, after 7 or 10 years, things became more competitive. When I was working, it was the in-between stage and then things suddenly changed. I think I couldn't catch up with that pace. That's where I went wrong somewhere. But the experiences of life teach you so much that as an actor, you grow and you start understanding yourself more. You mature into a person who's very different from when you were younger. I think it's more about understanding yourself, that helps you perform better.
Do the sensibilities of your sons Aryaman and Dharam influence your own creative choices now?

I don't like my creativity to be influenced by anyone. You have to have your own convictions. If you don't trust your own conviction, then you will never be able to brave it out there and do what you really believe in. When I sign something, I tell my sons that I'm really excited about this project. After I've signed it, after I've heard the story, I give them a bad narration of it, because I can't narrate properly. Their reaction usually is, 'Okay! It sounds nice papa'. That's because they've seen that their papa is trying to do different kinds of roles. They realise that their father is not trying to just be the main lead, he's trying to do characters which are out of his comfort zone and challenging for him. They know all that. When my sons Aryaman and Dharam saw 'Love Hostel', they loved it because they love that kind of cinema. I've never seen them so excited about any of my other films as much as they were about 'Love Hostel'. Simply because it was so different.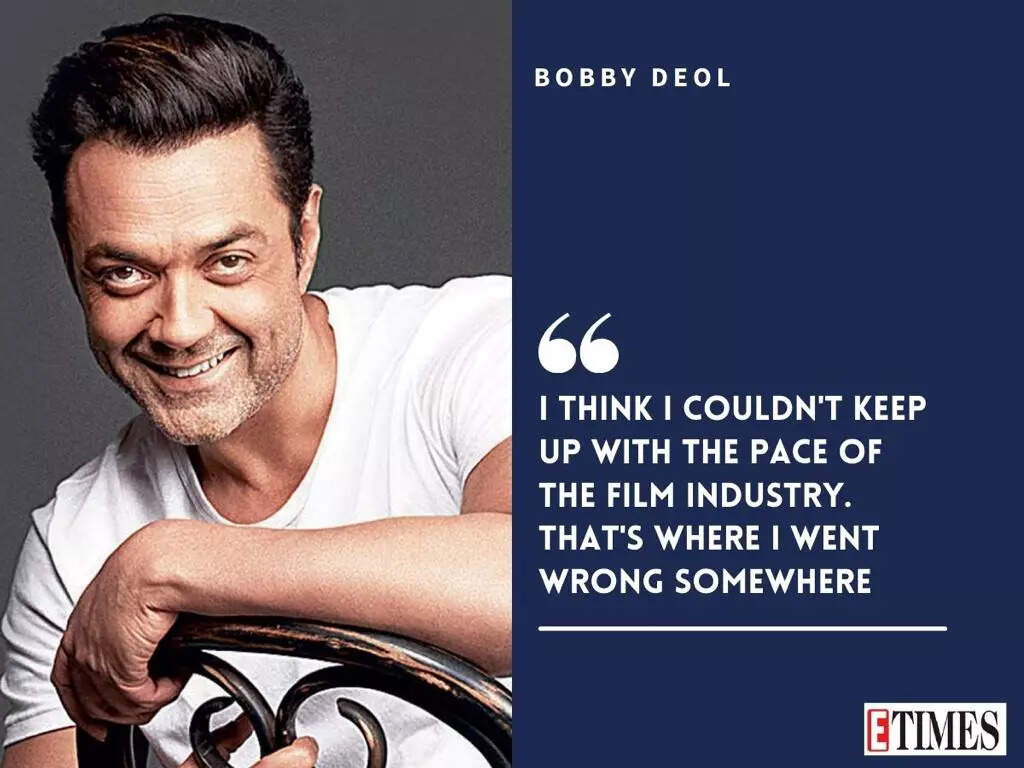 The younger generation are exposed to so much on television and internet, that they know what's being made and they know about certain genres, which we never even heard of. I was really nervous when they were watching the film. And my brother Sunny told me, 'Don't worry, this one's going to work for you'. Then my wife Tanya said the same thing. They weren't sitting in the same room together. And then my older son said the same thing. And then the younger one followed and he too said the same thing. They knew something about this film and about my character that would work for me. Everybody was so happy in our house after it released. My brother wanted to throw a get-together and celebrate, but I was busy promoting the film those days and now Sunny has gone to Lucknow to shoot. God has been kind. He's given me the opportunities that I've been looking for and my fans have surprised me with their reactions, too.
Are you now creatively satisfied with the kind of roles and stories that are offered to you? Is there anything that you still feel is left to try out?

I take things as they come. And it can be very difficult to get subjects which you really want to do. Because it doesn't happen so easily, you get frustrated, you get anxious, you get nervous, you get this fear that will I get something more interesting? Even though you've done something different, that fear still persists. I'm doing 'Animal' with Sandeep Vanga Reddy. He's an amazing director, even though he's just made one Hindi film. I really liked what he did with his first film. I'm going to do 'Apne 2' with my family. I wish I could do as many films as I can with my father. I always wanted to do the maximum number of films with my father, but somehow, I have not done as many as I could have. Karan, my nephew is also in 'Apne 2' along with my brother, so it's going to be fun. Now I don't want to get stuck with just playing negative characters or positive characters. When I read a script, I don't look at characters as negative or positive, if it gets me going and gives me the desire to do it, then I will do it. Going forward, I want to do slice of life cinema, something that is feel-good, sweet with a nice story about relationships, because those are the kind of films that I enjoy the most. Let's see what happens in the future.
Are Aryaman and Dharam, both going to follow in the footsteps of their father and grandfather?

For my experience in life, I want them to educate themselves first. I want them to broaden their horizons. We have to educate them so that they understand about other things in life. Because even though they'll become actors, they need to understand how to sustain themselves. An actor's career is quite uncertain. If things don't work, they will have to move in the right direction. They can do something else, and look after themselves. I give that advice to anyone; if anyone was to be an actor first, if you have the facilities to complete your education, do that. Even if you become successful, how do you take care of all the wealth you make? You need to be educated, so you can do other things.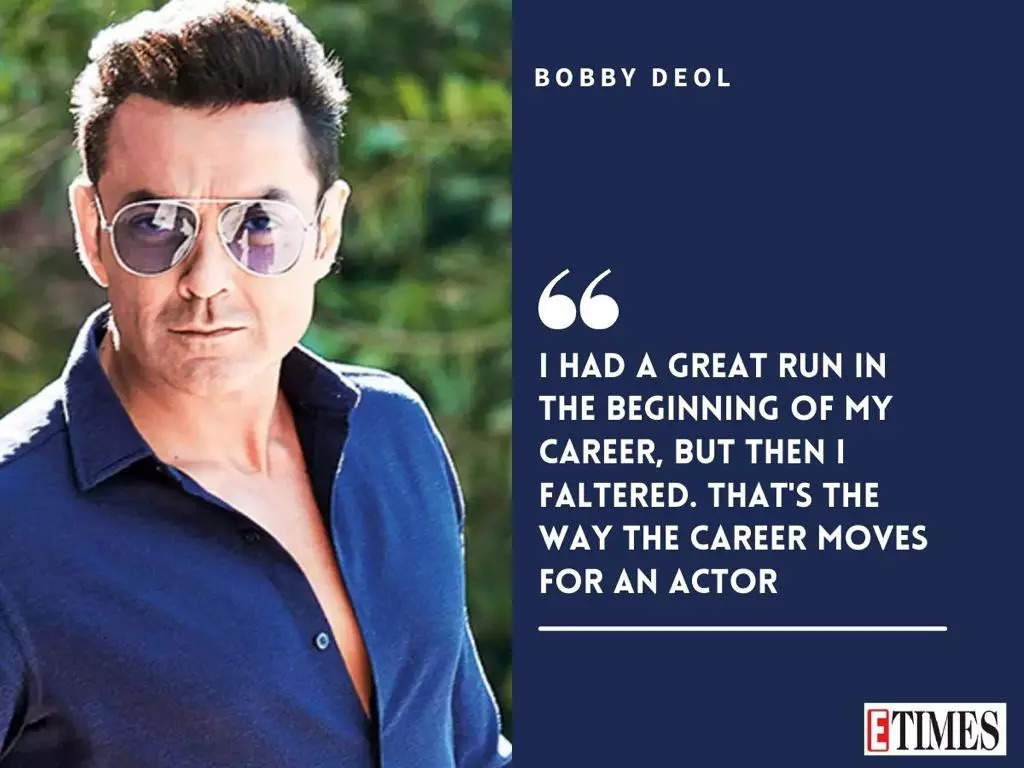 My sons are studying, Aryaman is in New York, studying business management. Dharam, my younger one, is in the 11th grade and he's still in Mumbai. I know that people have seen Aryaman's pictures on the internet and I feel really proud that they are looking at him as this amazing hunk. As a father I feel proud when I hear that, but when I started my career, everybody thought I was this hunk and a good-looking boy. I've seen that. It's not really about how good looking you are or how bad looking you are. When people really want to see you, they will see you. I had a great run in the beginning of my career, but then I faltered. That's the way the career moves for an actor. Any actor in our industry has never had a good start and a good ending in their careers. It's always been either a bad start, followed by a good ending or vice versa. It's difficult, but I would definitely want to see both Aryaman and Dharam on the silver screen.

As a father, you always want your kids to be better than you right?

Obviously. Even if I'm not better than my father, he'd always say, 'You're the best'. A father always talks to his children like that. There can never be anyone as great as my father. Yet, when he talks to you about how good looking you are and how well you did in your films. I feel like telling him, 'Dad! I'm not even a fraction or 1/3 of what you are'.
What's happening with the next season of 'Aashram'?

I am waiting for it eagerly, too. It got delayed because of the third wave of COVID. And if I were the producer, I would not want to release it during the IPL. It just doesn't make sense to put out your product right now. So I guess we'll see the next season of 'Aashram' sometime after the IPL.